December 19th, 2020 11:12 by Indi-Andy
This is all happening kinda fast. I just resurrected this site from dormancy this week in order to assist with the prayer efforts. More of us need to stand up!!!
We're passing this out today at the Dallas Stop The Steal with Allen West.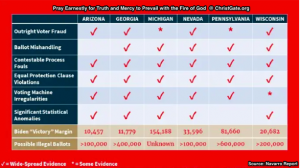 This great Navarro Report I am praying will break the media out of its stuporous and lazy narrative spirit and start to do their job of investigations.
Amen?
https://www.scribd.com/document/488495896/Navarro-Report